CLICK HERE FOR MY GUIDE TO HOME LOAN SUCCESS!

Are you ready to unlock the potential of real estate and embark on a journey towards financial prosperity? Look no further than Julie Chroust, the mastermind behind The Chroust Group. With more than 23 years of experience, Julie has established herself as a visionary leader in wealth building through real estate, and she's here to guide you every step of the way.

Julie Chroust is not your ordinary mortgage professional. She is a dedicated, insightful, and focused home loan originator who understands mortgages are more than just a means to secure a property. With her vast knowledge and expertise, Julie has assembled an exceptional team of professionals who share her commitment to delivering exceptional financial solutions.

As a mortgage professional, Julie goes above and beyond by serving as your trusted advisor. With her by your side, you can rest assured your interests are protected, and your goals are the top priority. Julie's mission statement echoes her unwavering dedication: "100 percent invested in delivering world-class service to my clients." This unwavering commitment has earned her the trust and loyalty of her valued clients, who gladly refer their loved ones to Julie for advice on any aspect of mortgage financing.

What sets Julie apart is her ability to truly understand the specific needs and goals of each client. She takes the time to listen, to empathize, and to learn what is truly important to you. When you work with Julie, you can trust she represents your money as if it were her own, making informed decisions that align with your best interests. Your success is her success, and she takes that responsibility seriously.

Julie Chroust's dedication to continuous learning and expanding her knowledge base is unmatched. She goes the extra mile to stay on top of market trends, financing options, and wealth-building strategies. By partnering with Julie, you gain access to her vast wealth of knowledge and expertise, empowering you to choose the mortgage that serves as a vehicle to create lasting wealth.

If you're looking for a mortgage professional who will not only secure your dream home as part of your plan for financial prosperity, Julie Chroust and The Chroust Group are your ultimate solution. Experience the difference of working with a team that is 100 percent invested in your success. Contact Julie today and take the first step towards building a brighter financial future.

The Chroust Group: Building wealth through real estate, one mortgage at a time.

Yes I have help. My team, The Chroust Group, is an exemplary group of professionals who work with me to get the job done. They are enthusiastic, professional, responsive, eager to help, and great to work with too!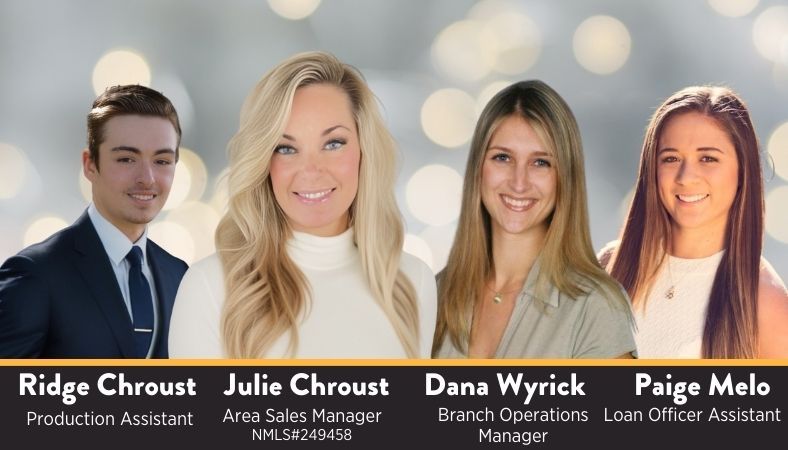 In addition to working as a mortgage consultant, I devote energy to my beautiful son, Ridge, my twins, Gage and Marki Lynn and my wonderful husband, Mark, as well as continuing my education. I believe a well balanced life is a state of well-being that you can reach that allows you to manage effectively multiple responsibilities in your career, your family, and your physical health.

Meet our Robot!

Homebot is our customizable ROBOT that helps you keep track of your single most important purchase. Receive a personalized monthly report that tracks your home value, mortgages and market conditions, and gives you smart information on strategically paying your principal payments and even how much you can make if you rent your home on Airbnb.

Scroll down to: What's your home worth? to get started!