Ian Wright is a Mortgage Loan professional with more than 14 years of experience specializing in Conventional, FHA, VA, Jumbo, Reverse Mortgage Purchase & Refinance transactions.

Originally from Santa Rosa, California in the North Bay Area/Sonoma County. He received his Bachelor's Degree in Business Management from Dakota State University and also attended Fort Hays State in Kansas, and Mendocino College in Northern CA.

As a mortgage professional, Ian prides himself in creating and identifying unique financing solutions for challenging scenarios. Ian and his team take the time to walk you through each step in the loan process so you walk away relaxed, well-informed and empowered.

His preference is to meet borrowers in person in order to openly strategize and answer questions, but feels it's equally important to utilize technology and remain flexible on the method of communication that best suits the borrower's needs.

Technology wise, clients are offered the option to securely upload documentation and receive auto To Do lists and milestone updates. This creates a simplified and streamlined mortgage experience for all.

Ian is available for clients at all hours and maintains proficient communication even when facing challenging scenarios. For him, the most fulfilling aspect of his profession is the opportunity to help his clients and Realtors meet their goals in a relatively stress free manner.

Aside from spending time with friends, family, and two dogs, he enjoys playing basketball, working out, traveling, reading and studying self-development. An avid sports fan, Ian's favorite teams include the Golden State Warriors, Duke Basketball, San Francisco 49ers, Fresno State football, and the San Francisco Giants. Also, a big boxing fan as well!

Please contact Ian Wright for your mortgage consultation- he looks forward to hearing from you.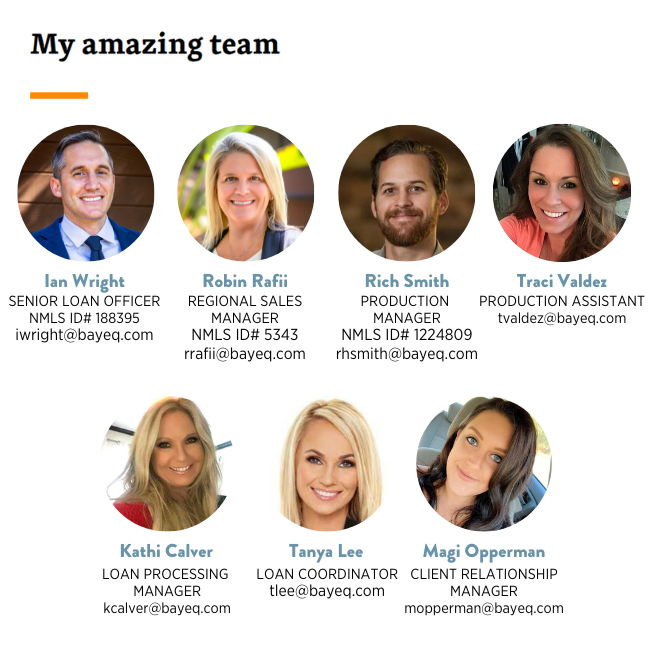 This is not a commitment to lend.  Results, rates and terms vary, and are subject to market conditions, underwriting guidelines, credit approval and borrower/property eligibility and qualification.  Not all borrowers will meet the requirements necessary to qualify. Opinions herein should not be construed as expert tax, credit repair, legal or financial advice, only opinions of the speaker to illustrate concepts and hypotheticals pertaining to the origination loan process. The statements mentioned here are broad and general in nature and may not apply to you.  Consult a tax advisor or a licensed legal professional in your jurisdiction for deductibility questions.  Nothing here constitutes as a promise, guarantee or warranty of a specific result or outcome. Decisions to lock must be made carefully. Factors to consider are affordability, availability, and every situation must be considered on a case by case basis. Please contact me at (619) 871-4995 to discuss in more detail.